Reach your goals faster – and feel happier! – with these 3 strategies to recharge your batteries and live your best life every single day
Everybody needs a little dose of motivation once in a while. No matter how laser-focused you are on reaching your goals – whether you want to start a new business, be a better parent or simply get more out of life – waking up each day feeling ready to tackle your day is key. Many studies show motivation is a better predictor of career and personal success than intelligence or even natural abilities. The good news: The best motivational tool on the planet is you!

By doing a few simple things each day to stay focused and inspired, you'll be able to slay your goals.
1

Live Your Vision – in Pictures

What do you want out of your life? If you're not crystal clear – or are the person who makes big lists of goals but doesn't always follow through with them – you need a vision board to stay focused and make your dreams a reality.

People use vision boards to help clarify and maintain focus on their biggest life goals. For instance, you may frequently say, "I want a better life" or "I want to make money," but have you given serious thought to WHY? Making a vision board can help you envision what achieving the goals might look like. And they work: 82 percent of entrepreneurs who use a vision board say they've accomplished more than half the goals they have on their boards.

Want more proof? Some of the best entrepreneurs in the country use them regularly. "Defining your WHY is extremely powerful," says Paul Gravette, Co-Founder and Co-CEO of Le-Vel, a nutritional supplement company that just reached $2 billion in lifetime sales, and did it in only seven years. Gravette and Co-Founder and Co-CEO Jason Camper are huge proponents of using vision boards – not only do they both swear by them, but they encourage their company's more than 10 million independent Promoters to use them as well.

82% of entrepreneurs who use a vision board say they've accomplished more than half the goals depicted on it.
"The reason why goals and dreams are so important is they provide purpose and direction in your life," says Camper. "Imagine going to an airport with no ticket and no idea where you wanted to go. You would wander around aimlessly."

"Your WHY is what drives you," Gravette adds.
How to Create Your Board

To create a vision board, write down your goals for business, finance, personal growth, relationships, health and leisure.

Next, as you think about each one, think about the WHY that motivates you to achieve that goal. For example, if you want to make more money, what would you do with it? If you want to buy a beach house where you can spend more time with your family, find pictures online (or take them in person, if you can) of the type of beach house you daydream about. If you want to run a marathon, find pictures of your ultimate dream marathon destination.

Next, put all of your pictures on a board in a visible area of your office or a prominent room in your house so that you can look at them often. Staring at the pictures frequently – really taking them in – should evoke happiness and excitement. "The real key to reaching your goals is to become emotional about what you want to accomplish in your life," Camper says.
Another tip: Involve family members or close friends in creating your board, especially when the goals involve them. You might sit down with your spouse and say, "What hobbies do we want to take up together? Where should we spend our dream second honeymoon?"
Involving loved ones will help you stay focused. You'll have a built-in supporter rooting you on every step of the way.
2

Be Thankful Every Single Day

Gratitude isn't just for Thanksgiving. Recent studies show that people who practice gratitude on a daily basis, perhaps by keeping journals or by mentally counting their blessings, can see seriously transformative effects on their lives.

According to a study of 1,000 people between ages 8 and 80 headed up by Robert Emmons, a professor of psychology at the University of California Davis, people who practice gratitude consistently report physical benefits, like having the motivation to exercise more often and take better care of their health. In addition, they notice psychological benefits, like feeling more alert and joyful; and social benefits, like feeling more outgoing, helpful, generous and compassionate toward others.

Why? Practicing gratitude "is an affirmation of goodness," Emmons says in his report on the study highlights. "Gratitude encourages us to identify some amount of goodness in our life."

In addition, he says, practicing gratitude helps us to recognize the sources of goodness around us. And that can be very motivating.
How to Practice Gratitude
To get the most good, Professor Robert Emmons, author of a gratitude study, and other experts say that you need to cultivate gratitude every single day. One strategy is to keep a gratitude journal. If you're not a writer, you can simply jot down five bullet points of what you're grateful for each week, and take a moment each morning to look over the points. If you like to write, feel free to expand on each point and paint a picture of how something made you feel grateful.

Another strategy is to take a few moments each day (the best time is in bed, when you just wake up) and simply ask yourself, "What am I grateful for today?"

You can also put physical reminders of gratitude around your home and invite others to take part. Some people have gratitude jars, where you write down something you're especially grateful about in a particular moment, and place it in the jar. At the end of a busy week, you can empty the jar and reflect on all the positivity that helped get you through the week.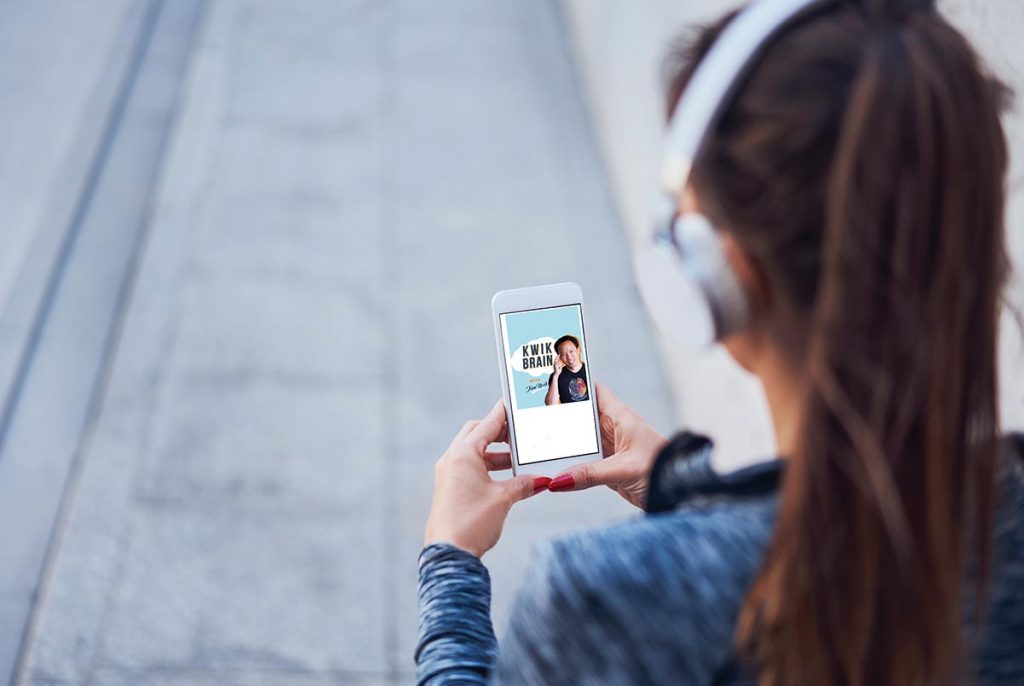 3

Power Up with a Podcast

Sometimes you need someone else to give you a little pick-me-up. Hearing about how others have pushed through a goal will give you a new perspective. The most effective podcasts are short and conversational, and leave you in a better frame of mind to get moving. You can listen to them from anywhere – during your commute, your workout, or just a little bit of downtime.
Who Should You Listen To?

There are hundreds of great ($ free!) podcasts out there by a variety of people with different styles. You'll want to experiment with several types and seek out the ones that speak to you most. Here are three popular ones to consider:
The Good Life Podcast
Each week, Elizabeth Gilbert, best-selling author of Eat, Pray, Love, shares inspirational, intimate, and frank conversations about living a purpose-drenched life. Special guests dig deeper into issues like self-care, how to cultivate creativity, and how to conquer roadblocks. You'll hear honest stories you can relate to.
Kwik Brain Podcast
Wake up feeling a little foggy? We all do. This fun and fast-paced podcast promises to "double your brainpower" by teaching you to learn, read and remember anything in half the time. Hosted by Jim Kwin, who has trained many CEOs and celebrities to improve their mental performance.
Goal Digger Podcast
Ever have self-doubt get in the way of reaching your goals? This is a topic that Jenny Kutcher, marketing entrepreneur, tackles in what is billed as a "live workshop-style business podcast that is helping thousands redefine success and chase bolder dreams." In one episode, Kutcher gives sound advice to push past nagging self-doubt and do the things that you were born to do.
© martin-dm; westend61, © RoBeDeRo; Maskot